Internet faxing is more cost effective than using a fax machine, and offers a vast amount of features and benefits to reduce costs while increase business productivity. Fax2Mail is E Street's easy to use electronic fax service. (Fax2Mail is provided by E Street in partnership with EasyLink)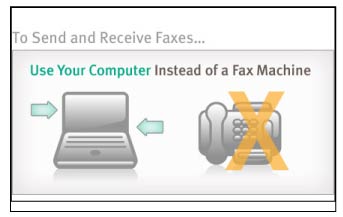 FEATURES:
with Fax2mail Internet based Faxing you can...
- send and receive faxes directly from your email program
- use a web-browser based Fax tool when away from your email program
- install a "Virtual Fax Machine" to your desktop for easy faxing.


THE BASICS
If you know how to use email, you know how to use Fax2Mail!
~~~~~~~~~~~~~~~~~~~~~~~~~~~~~~~~~~~~

To Send OUT a Fax (Outbound fax):

To send a fax, simply use the same process as sending an email with an attachment:

1. Enter the fax number followed by "@fax2mail.com" in the "To" field. For example "3035551212@fax2mail.com"

(NOTE: Fax2mail account owners have an authorized Email - your email must be "From" your authorized Fax2Mail email account).

2. Add as an attachment the document you would like to send out as a fax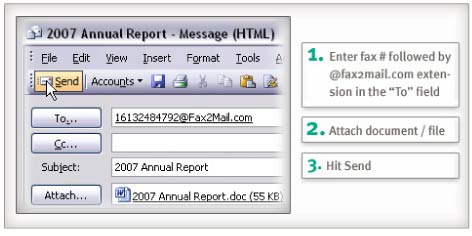 3. Hit Send.



You're Done!




~~~~~~~~~~~~~~~~~~~~~~~~~~~~~~~~~~~~

To RECEIVE a Fax (Incoming fax):

When signing up for service with E Street, E Street will assign you a local or a toll-free fax number.

Porting: You also have the option to port over your existing fax number. NOTE: customers porting in Fax numbers own their numbers and can port the number back out, but NEW Fax TNs issued by E Street are owned by E Street TN vendors and cannot be ported out.

You just give out your fax number like normal. When the sender faxes a document to you, it will appear in your inbox just like any other email.

1. Someone faxes your personal fax # just like normal
2. The Fax gets converted to a PDF or TIFF image
3. Image is sent as an attachment into your email inbox
4. Double click and view



---
SUPPORTED FILE FORMATS FOR OUTBOUND FAXING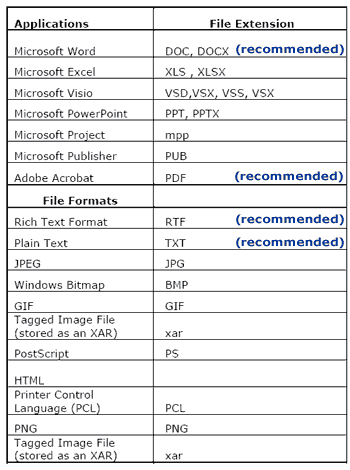 I'D LIKE TO DO MORE!

And you can ....For more advanced features and things you can do with Fax2mail Click here for the full user's guide (2.6MB PDF).

For more features options and instructions go to the the Fax2Mail control panel here:
https://myportal.opentext.com
username: (your email address you signed up with - provided by E Street)
password: your password


To send a fax directly from the fax2mail web panel:

1. Log in and then click "Send Fax"

2. Enter the recipient's information and then click "Add". You can add multiple recipients if you'd like.

3. In the "Message Contents" section, click the icon next to "Select a document" to choose the file you'd like fax and then click "Upload".

4. In the following section you can add a cover sheet if you'd like.

5. When ready to send the fax, scroll to the top and select "Review and Send".




Contact E Street Support on any questions with Fax2mail.